---
---
---
K402 - $150
23, Basseynaya str.
---

The perfect central location. The 4th floor without an elevator, a balcony, luxury decoration.

---

This 4-room apartment consists of one living room, three bedrooms, a kitchen, a bathroom, a toilet and a hall. The apartment is fully furnished and equipped with everything necessary for staying there: kitchen utensils (sauce-pans, frying pans, dishes, plates, cups, glasses, a corkscrew, a tin-opener and so on...), bed-linen, towels, soap, toilet paper, tooth-paste and tooth-brushes, an iron. It has a TV-set with the remote control, multilingual cable TV, a fridge, a musical centre with CD player, a microwave oven, a washing machine, a toaster, an electric kettle and a phone.

The furniture: a double bed and a wardrobe in each of two bedrooms, a folding sofa and arm-chairs in the third one.
Hot water in Kiev is available round-the-clock.
Bed linen changing and flat cleaning is done once a week or can be made more often by your request for the additional fee.

---

If you are interested in renting the apartment, please, e-mail us to alphaagency@ukrpost.ua
---
1-room apartments in Kiev
2-room apartments in Kiev
3-room apartments in Kiev
4-room apartments in Kiev
Apartments in Simferopol
Apartments in Crimea
1-room apartments in Yalta
2-room apartments in Yalta
3-room apartments in Yalta
Apartments in Alushta
Apartments in Sevastopol
Apartments in Odessa
Apartments in Nikolaev
Apartments in Lviv
| | |
| --- | --- |
| Living room | Living room |
| | |
| --- | --- |
| Bedroom | Bedroom |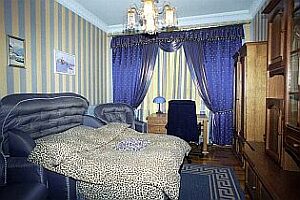 Bedroom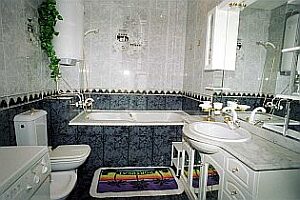 Bathroom




If you are interested in renting the apartment, please, e-mail us to alphaagency@ukrpost.ua