L104

---
---
---
1-2 days - $75 a day
3-10 days - $70
> 10 days - discounts!
31,Virmenska Str
---

Perfect location in the very centre, luxury decoration. The 2nd floor without an elevator.

---

It is really a very big one-room flat-studio. The total area is 62 sq.m. It is on the 2nd floor with 2 big French windows. The apartment is designed in the classic style with expensive wooden furniture. There are all the necessary things there: a microwave oven, an electric kettle, a toaster, a refrigerator, a gas water heater, a TV set with satellite television, a tape recorder, a washing machine, an iron, a hair-dryer.
There is a big bathroom with Jacuzzi and bide with toilet in the separate room. The flat is with an alarm and a phone for local calls. For booking apartments for more than 10 days we offer big discounts.
Bed linen changing and flat cleaning is done once a week or can be made more often by your request for the additional fee.

---

If you are interested in renting the apartment, please, e-mail us to alphaagency@ukrpost.ua
---
1-room apartments in Kiev
2-room apartments in Kiev
3-room apartments in Kiev
4-room apartments in Kiev
Apartments in Simferopol
Apartments in Crimea
1-room apartments in Yalta
2-room apartments in Yalta
3-room apartments in Yalta
Apartments in Alushta
Apartments in Sevastopol
Apartments in Odessa
Apartments in Nikolaev
Apartments in Lviv
| | | |
| --- | --- | --- |
| | Bedroom/Studio | Bedroom/Studio |
| | |
| --- | --- |
| Bedroom/Studio | Bedroom/Studio |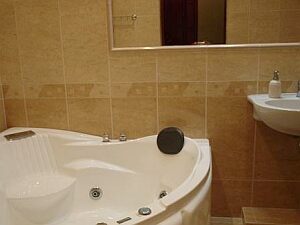 Corridor
Here is the view from the window.
Our luxury apartment is located in the city center, across from the City Hall in the old part of the city, which is protected by UNESCO. Restaurants and all the city attractions (City Hall , Opera Theatre, Rynok Square, Roman Catholic Cathedral, Dominican , Armenian Churches, National and History musems, High Castle, Royal Arsenal etc) are located in 5 min walking time radius.



If you are interested in renting the apartment, please, e-mail us to alphaagency@ukrpost.ua