---
---
---
Y304

13, K.Marks Str.
---

The luxury house is rented as a one-bedroom apartment (see Y103) or a two-bedroom house. Additionally it has two small rooms where it is possible to stay in summer (maximum 6 people: 2+1+2+1). There is a cosy closed yard.

---

This house consists of one big room (Master bedroom) and one very small room (actually you see the whole of it in the photo 'Small bedroom'), a kitchen, a full bathroom, plus a toilet and a shower. There is one big Bedroom in the Basement with sports simulators and a kitchen. In the yard there is a separate Second Small Room. This room has no bathroom at all.

In the warm season you can use the private closed yard as a dining room and make barbecue in it.

The house is fully furnished and equipped with everything necessary for staying there: kitchen utensils (sauce-pans, frying pans, dishes, plates, cups, glasses, a corkscrew, a tin-opener and so on), bed-linen, towels, soap, toilet paper, an iron. It has two TV-sets, a telephone, a domophone, a washing machine, a music system, an air-conditioner and a fridge.



Bed linen changing and flat cleaning is done once a week or can be made more often by your request for the additional fee.

---

If you are interested in renting the apartment, please, e-mail us to alphaagency@ukrpost.ua
---
1-room apartments in Kiev
2-room apartments in Kiev
3-room apartments in Kiev
4-room apartments in Kiev
Apartments in Simferopol
Apartments in Crimea
1-room apartments in Yalta
2-room apartments in Yalta
3-room apartments in Yalta
Apartments in Alushta
Apartments in Sevastopol
Apartments in Odessa
Apartments in Nikolaev
Apartments in Lviv
| | |
| --- | --- |
| Master bedroom | Master bedroom |
| | | |
| --- | --- | --- |
| Small bedroom | Full Bathroom | Kitchen |
| | |
| --- | --- |
| Bedroom@Basement | Bedroom@Basement |
| | | |
| --- | --- | --- |
| Kitchen@Basement | Spare Shower | Spare Toilet |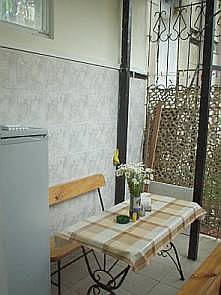 Bench in the yard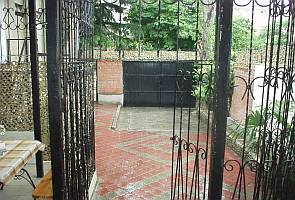 Yard - View from the house




If you are interested in renting the apartment, please, e-mail us to alphaagency@ukrpost.ua